A spring guide to your garden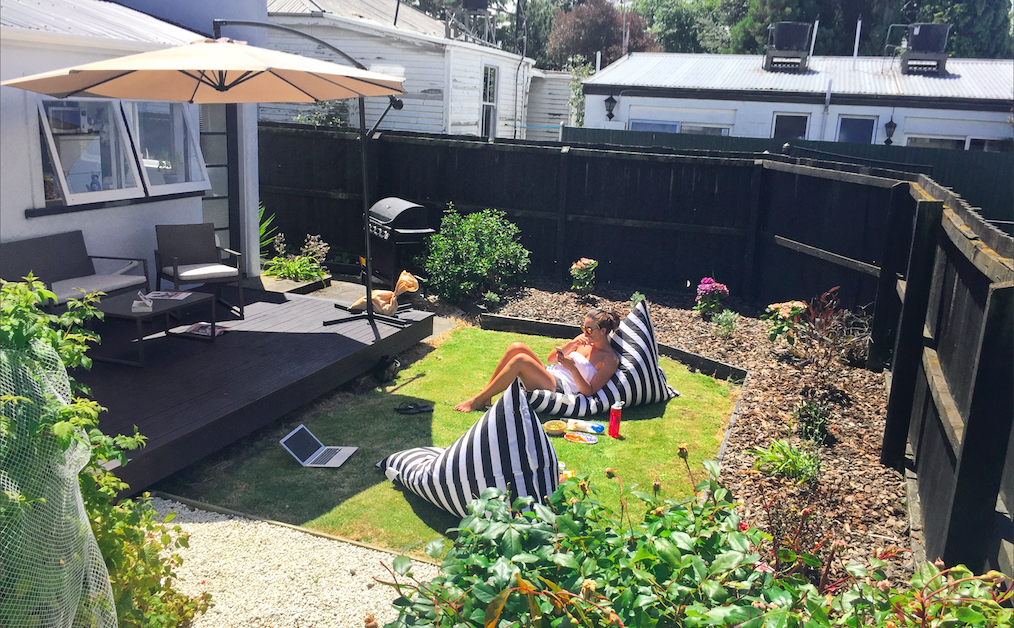 Kiwi's love spending time outdoors, our backyards are where we do most of our entertaining over the warmer months so we put a lot of pride into their appearance.In spring we put the brollies away and start prepping our gardens, it's the perfect opportunity to do all the ground work so your outdoor spaces are looking primo for summer.So what do you need to do? Where do you start? It can be challenging to know which garden maintenance jobs we should do specifically during spring that won't damage the plants and is a good use of time.  We're getting our yard prepped, so created a list to help you through it.
CLEAR THE LEAFAGE

Clear away winter deciduous leaf debris, dead branches and old leaves that are still hanging on but look like they won't be for much longer. We've just done this and used a leaf blower to mulch the all the leaves and it doubles as compost, you can also use your lawn mower to do this.
WEED THAT GARDEN
Spring is when plants are at their best so clear weeds before they make them selves at home! Start thinking about making your life easier with things like weed mat, bark, sprays and planting crawling plants. Think about how much time you have to spend in the garden this summer. Weed mat is our life saver in the garden and we spray every month to keep the weeds down.
PRUNING

Spring is the season for plant growth. So have a look on websites like www.tuigarden.co.nz to gets some tips and tricks.  Make sure you get onto pruning early so it doesn't kill any growth for the spring!
USE THE MULCH

Soil, just like us thrives when it's getting nutritious food. Use the mulch that you made with the leafage or any compost you've accumulated over the winter in your garden. go to your local garden centre and get some fertiliser when you're wanting your plants to shoot up. Oderings is always a good option or just a local nursery or garden centre.
ELIMINATE THE PESTS

Black spot, slugs, snails and mites - get these buggers nice and early! Go to your local hardware store and they will have plenty of chemicals available along with guides and info for you.
DECK AND PATIO CLEANING

Moss and mould most likely grew over the winter on your deck/patios. Use a water blaster or a high-pressure hose with a garden friendly cleaning solution. Be careful not to remove any paint and get a professional green keepers help if you're worried you'll make a mess.
TRANSPLANTING AND SPLITTING

In spring we can split and transplant the plants that have spread. Plants will adapt quickly to being divided with the warmer weather and drier conditions and spring is a good mix of both so they won't dry out too much while they are taking to the soil.
LAWN CARE

During winter, lawns become bogged and full of weeds and moss. Spring is the best time to aerate your lawns and grow new grass. You can get weed and feed products that clip onto your hose so no mixing needed. You can seek a lawn care experts help and get a plan in place so your lawn is looking lush in summer if you are too busy to pay attention to your lawns. Now is also a good time to start re-edging your front lawn and reshape.Wait for the soil to drain and the weather to warm up, before planting to give seedlings the best chance.
GROWING HERBS FOR SUMMER COCKTAILS

Spring is a harsh season for frosts and random weather conditions so seedlings should be raised in a covered sunny location where they won't be touched by a frost or the wind. Start transferring these to your planter boxes around October so they are established come summer.